Gah. Back to school explains my lack of postage yesterday despite my promise for a good post. Super stressin. I don't really have that much to do when I'm at home, but school makes things overwhelming. The Strokes' song Between Love and Hate is perfect right now.
Watched her as she wiped her eyes;
You don't make me sorry. Now I know
That you never listened - Listen.
Thinking about that high school dance
Worrying about the finals
Yes I know
You're feeling lonely
Oh lonely, so lonely.
The Strokes make everything better!
Here's a few of my daily likes:
"Semi Formal Rock and Roll"
That is how Rolling Stone described Rilo Kiley in their latest issue which features a spread about their eclectic hipster style and their new album, Under the Blacklight. And it's true. Jenny Lewis is the cutest most freakin stylish person on the planet. She talks about her love for high waisted jeans before they became trend and thrifting. And the other members of Rilo Kiley actually get focused on too. Usually they are overlooked because Jenny tends to steal the spotlight, but it cured my fashion+music fix for the day. Pick up Rolling Stone and read it, yo!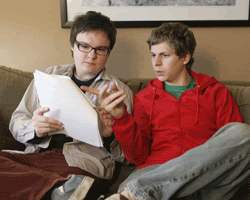 Clark and Michael
Michael Cera is adorable and funny and this internet show of his is hilarious. With his real life friend Clark Duke (you've seen him as Rusty's roommate on Greek), they document their life with personally paid camera men. I love them both.
Blah. My apologies but that's all for today. I'm thinking now that school is starting it's going to be harder to post so they will either be shorter posts, or else less frequent but longer :\ I'm not sure how I feel about that, so I'm going to try to work it out as best as I can!