Hiiiiiii
So I found out I am, indeed, supposed to pass on the Rockin' Girl Blogger award on to five other Rockin' Girl Bloggers! So here goes...
1
The Weekly Blogette
2
Plain Jayne
3
Discotheque Confusion
4
C.B.*
5
Fashion Fleur
They are all fabulous in my book :]
(If I tagged you, you get to tag 5 new people that haven't been tagged yet!)
Anywhoo...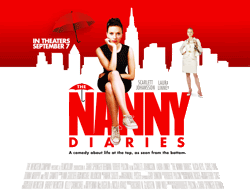 Tonight I went to go see The Nanny Diaries and it was uh-maze-ing. It was about a zillion times better than the book (I assume, because I never actually got that far into the book). It was so funny and happy and sad and everything and it made me kind of want to be a nanny but kind of not. Just go see it.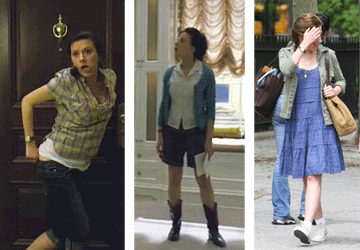 Also Scarlett Johansson looked great in the movie. Although the fashion was a bit dated (it was filmed more than a year ago and production pushed the release date back a couple times) she still looked cute. The first picture I love because she pulled of plaid correctly, yay. Her boots were great in the second picture. The third outfit, though, is my absolutely favorite. The dress was so pretty and the chucks made it nanny-casual.
The soundtrack was also pretty good. It featured LDN by Lily Allen and Closer by Josh Radin. I am now back into a Josh Radin phase...he is sad and happy at the same time. Fitting for the movie then, eh?
Paix for now :]
P.S. I updated the playlist on the right. Now it doesn't autostart, and it should shuffle so you don't have to listen to the same song every time you visit!
Here's what's on it
-Mary Jane's Last Dance - Tom Petty
-No Cars Go - Arcade Fire
-Everything's Just Wonderful - Lily Allen
-Barely Legal - The Strokes
-Samson - Regina Spektor
-Wicker Chair - Kings of Leon
-Love Hurts - Incubus
-Sad Song - Au Revoir Simone