HAPPY FASHION WEEK! :]
so i'm going to do a collection of the day for every day of fashion week. i probably won't get to it every day, but i'll cover every day, don't worry. so today i'm going to do my favorite of today and yesterday. and we'll see how it goes from there.
FRIDAY 2.1.8.
Collection of the Day
: Boy by Band of Outsiders
To be quite honest, I wasn't really too impressed with any of Friday's collections, but Boy was my favorite. It's very masculine, go figure, right? and maybe a little old, but at least it was done well. It shared many of the same silhouettes and ideas as
Elie Tahari
, but I feel like overall it was more my style, and presented much better.
Here are a few of my favorite looks: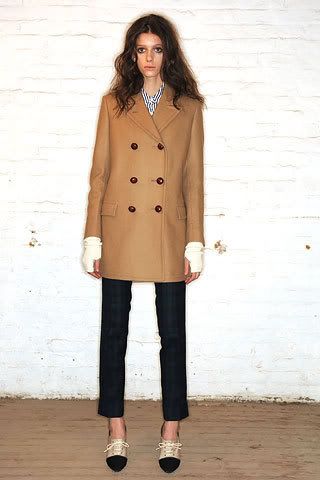 The coat is obviously a classic and fashion staple, but I love that the pants are cropped Audrey style to at least vary up the skinny leg a bit.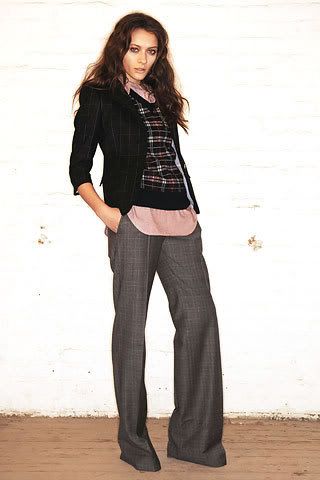 I love the combination of plaids. It's super '80s boy preppy for a girl, and really, who could ask for more?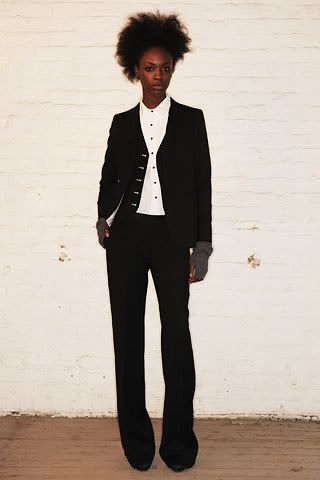 It reminds me a bit of Chanel... ok a lot, but I like Chanel, so I like this too.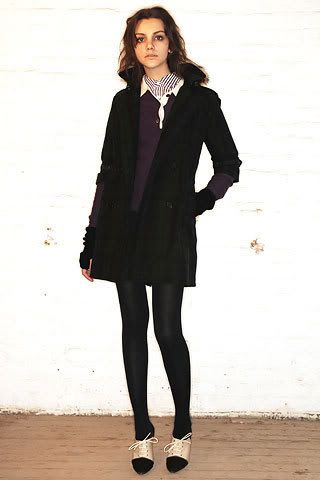 I love purple and the shape of the coat. It's young and fun.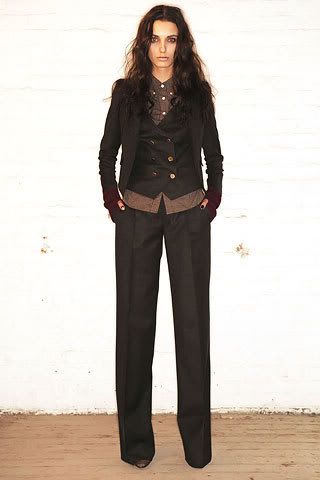 This is total Billie the Kid attire...Rockin'.
As for the others:
Vera Wang's Lavender Label
collection was a bit too conservative and the pattern and color combinations just didn't do it for me.
There was absolutely nothing I enjoyed about
Rachel Roy
's collection. The clothing reminded me of Condoleeza Rice just as much as the models....perhaps that was the vision, either way i don't like it.
And like I said earlier...
Elie Tahari
was well done but I feel like I've seen it all before.
SATURDAY 2.2.8
Collection of the Day
: Nicole Miller
Again, it's kind of repetitive of a lot that I've seen before, especially in even main stream fashion chains, but it was a bit more extravagant I guess, and again the most matching of my style.
My favorite looks...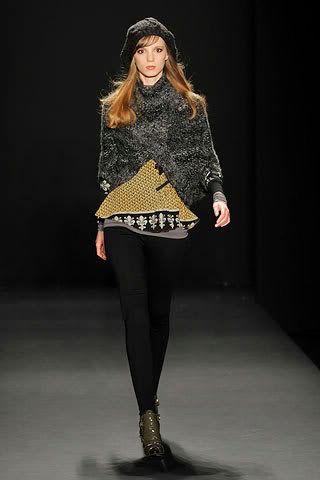 I actually really like the print and the cape because it's so small and conventional instead of most over the top capes and prints and everything.
Same thing, and I love the contrasting textures with the complementary shapes.
One of my favorites because it looks comfy and cute, and it's long enough to be worn without pants and not one of those shirts that people think are dresses.
It's very simple, and you could probably find a much cheaper version at American Apparel, but again comfy, sporty and cute.
I usually don't like dresses that are cut like this because I find that the bottom is often far too short to cover my behind... but this is long enough, therefore I like it. Also I like the neck and the sleeves.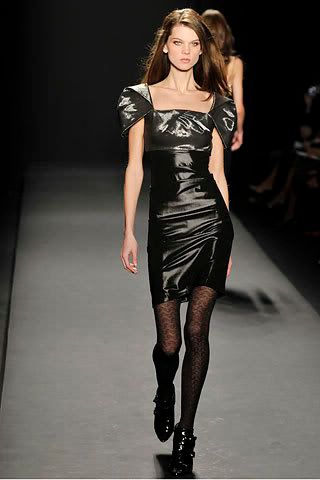 I like htis dress because it's superrrr 80s prom. That's really it.
Other collections:
BCBG Maxaria
looked like every other BCBG collection, which I guess is ok, but whatever.
Douglas Hannant
was very pretty, but a bit too old for my liking.
I liked all the solid pieces of
Erin Fetherston
's collection, but the pattern choice was unflattering and homemade Easter dress looking.
Jason Wu
was lookin pretty Easter meets Funeral.
Katy Rodriguez
had a few cute dresses, but overall way too trekkie for my taste.
I liked the eclectic ideals behind
Rachel Comey
's collection, but I felt like the execution was bad and it looks too old lady.
I actually realy loved
Rag and Bone
... I don't know why I didn't choose it as my collection of the day.
The presentation of
Sue Stemp
's collection was so "angsty teenager being forced to dress up" and the dresses were too Macy's Prom.
I liked the monochromatic color pallaete of
Yigal Azrouël
's collection, but to me all the looks looked the same.
Also, I'll probably update my MP3 player over there sometime soon, so if you have any suggestions I would truly appreciate them.
p.s. here's my weekly top from
last.fm